---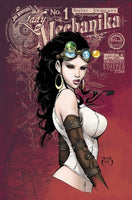 Lady Mechanika #1 UniversalOutpost / Rupp's Comics Exclusive
Writer: Joe Benitez
Art: Joe Benitez & Peter Steigerwald
Cover by Joe Benitez & Peter Steigerwald
Limited to 750 copies
RuppsWorld.com Exclusive

Rupp's Comics (at one time, we had a second company called Universal Outpost). From the imaginative mind of Joe Benitez with colors by the incomparable Peter Steigerwald, comes this all-new supernatural action-adventure series! The tabloids dubbed her 'Lady Mechanika', the sole survivor of a psychotic serial killer's three-year rampage through London. Found locked in an abandoned laboratory amidst countless corpses and body parts, with her own limbs amputated and replaced with mechanical components, her life began anew. With no memory of her captivity or her former life, Lady Mechanika eventually built a new life for herself as a private detective, using her unique abilities to solve cases the police couldn't or wouldn't handle. 

Artist Joe Benitez and Peter Steigerwald created an exclusive variant cover for Rupp's Comics, for issue one of Lady Mechanika on this exclusive variant, limited to 750 copies.
Variant Cover by Joe Benitez & Peter Steigerwald 

Rupp's Comics Exclusive

Limited to 750 copies 

Published 201

Aspen Comics

2nd appearance of Lady Mechanika
First Print


Near-Mint




Bagged and Boarded