---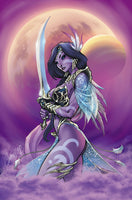 Jirni #5 Campbell Rupp's Comics Exclusive
Writer: JT Krul
Art: Paolo Pantalena
Cover by J. Scott Campbell & Peter Steigerwald 
Limited to 100 copies
RuppsWorld.com Exclusive

Take an incredible JIRNI with Aspen's newest hit series! In a great city at the edge of the world, Ara finally finds her mother, Luna. But finding her and saving her are two very different things - especially with an army of royal guards, a destructive d'jinn, and a wicked sorcerer in her way. It's all been leading up to this as Ara confronts the truth about herself - her past, her present, and even her future...provided she survives to see it!

Artist J Scott Campbell and Peter Steigerwald create an exclusive variant cover for Rupp's Comics featuring Ara in this exclusive nighttime variant, limited to just 100 copies. 
Variant Cover by J Scott Campbell 




Rupp's Comics Exclusive




Limited to 100 copies 

Virgin Nighttime Variant 

Published 2013

Aspen Comics 

First Print


Near-Mint




Bagged and Boarded